Our Team
Our Focus Is Service
At Laser Line, our team has an average of over 25 years of experience in the printer and copier service industry. Our team of experts come from diverse backgrounds with one focus and goal: To provide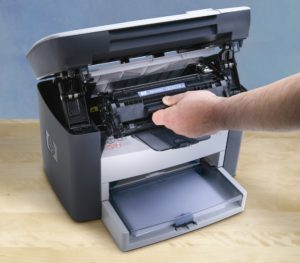 you with the best in service and support for your printers. We have dedicated teams that provide printer selection services, evaluations of your fleet, product knowledge and the latest in HP Authorized service support. We also offer Authorized Service for Xerox, Sharp, Canon and Brother.
Our team of technicians receive the latest training and certifications on new technologies and are experts at the old ones too. Our sales and design team understand business and focus on the right solution, not just the cheapest initial cost or selling price. It's the total result and the total cost of ownership that matters.
Based in Jessup, Maryland, Laser Line stays informed on the latest products as a result of strategic alliances with industry leaders.  Combined with their experience and dedication, Laser Line is able to offer customers an extensive number of products, services, and networking solutions to expand, upgrade or consolidate their business technologies.
We are asking for the opportunity to show what we can do for you and your business with products from HP, Sharp, Canon, Xerox, and Brother. We have supplies and service packages for your business that give more than you are getting now and save you money at the same time.
You can buy products from Big Box stores owned by people outside of the area but our services and goods are provided by people who pay mortgages, buy cars, shop and send their kids to school in Maryland, DC and Northern Virginia.
When you're choosing new equipment and someone to manage and maintain it for you, always go with the experts at Laser Line. Locally owned and operated for over 20 years!