Solutions
The Right Solution to All Your Print Technology Problems 
At Laser Line, we offer a wide variety of document solutions for all of your business needs: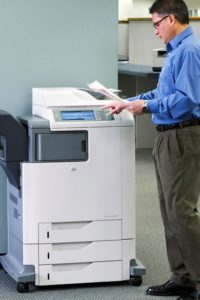 Controlled Inventory: Instead of keeping a stockroom complete with an extensive array of toners and cartridges for your office print technology, eliminate these excess supplies and obsolete consumables in an unmanaged storage area with the controlled inventory assistance of Laser Line.  We organize and maintain your print technology supplies, a money-saving endeavor.
End User Satisfaction/IT Productivity: Unforeseen print technology malfunctions can happen at anytime and usually at the most inopportune time for your business.  Our premier remote print monitoring system tracks your print technology to assure optimum IT productivity results and support before a potential problem even exists, resulting in an outstanding satisfaction among users and IT Professionals alike.
Preventative Maintenance: Potential issues with your print technology and network are limited with Laser Line's proactive preventative maintenance approach.  With each service call, you are guaranteed a routine cleaning and care inspection, helping to avert future problems.
Break/Fix On the Spot: Our service packages allow us to provide specialized maintenance to you, based on the correlation of your specific requests and requirements to our service tiers.  These service packages allow us to supply break/fix repair and replacement on the spot with minimal to no involvement on your part.
Familiar Tech On-Site: It can be frustrating for you when a different technician is dispatched to your company to handle all of your print technology needs.  At Laser Line, we aim to send the same technician for all of your print technology services.  Therefore, the technician becomes familiar with both your company and technology.
Simplified Monthly Billing: Our simplified monthly billing alleviates a multitude of inconclusive bills each month and details exactly what your payment covers, resulting in a worry-free monthly transaction.
Reporting: The real data/reporting programs create awareness among decision makers about the output of their print technology, showing exactly what is being used and the associated usage costs.
HP Warranty Repair On-Site: At Laser Line, we repair HP and other products under warranty, eliminating the third party intervention and allotting a quick response to any print or technology related issue.